The "Oh Sh*T I Have 5 Minutes to Warm-Up" Warm-Up
We can't all have time machines in the form of a phone booth from a future where Bill and Ted's music aligned the planets and set in motion intergalactic peace. This is why on some days I have clients that show up late or I myself need to fit in a quick training session in between clients or meetings. So what do you do? Do you lift for a shorter period of time or do a quick warm up that may just be enough to prepare our bodies for the rigors of heavy squatting and explosive bicep curls (because…it is almost beach season…Gym. Tan. Laundry).
Let me preface this blog by saying the far to often used, "it depends." I consider myself to have pretty good mobility everywhere except my hips, and they are even doing pretty damn good now. But what about someone who has poor posture, knee pain, and hip flexors with the tissue quality of beef jerky? Obviously I would have them put the mobility and rehab work higher up on the list of priorities. Got it?
Now, here is the best bang for your buck warm up for those who are crunched for time but still want to warm up properly.
Foam Rolling (6 reps each)

Quads
Adductors
Lats
Traps
Mobility (5/side or 10 total)
Spider Man Lunge Walk with Reach and Hip Lift: This is the epitome of, "bang for your buck" when it comes to mobility exercises. Think about it, you are stretching your hip flexors and hamstrings while also activating your glutes and quads.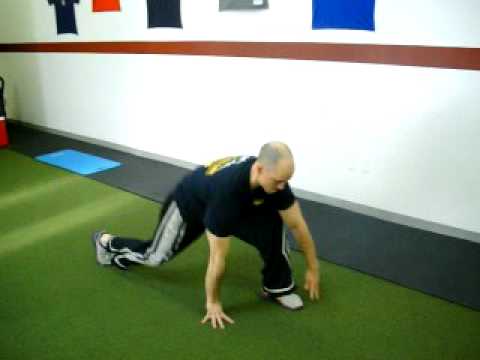 Scapular Wall Slides: It is a sad fact, but most people have very limited scapular mobility. Just ask a friend to try and put their arms straight overhead, instead of something that looks like a touchdown sign, you will see a deformed "V." Scap wall slides will mobilize your upper back and get you ready for your horizontal and vertical pulling.
Wall Quad/Hip Flexor Stretch: Like the Spider Man Lunge Walk, this mobility exercise hits a few muscle groups, the hip flexors and quads (no duh Kevin…). To perform these go against a wall and place one knee on the ground and the opposite foot on the ground. You should
Push Up to Downward Dog: I don't like yoga, but this movement allows you to warm up your upper body and get a great stretch for your hamstrings and calves.
Now go on and leave no room for excuses when it comes to getting a lift in. Lastly, DO NOT FORGET:
BE EXCELLENT TO EACH OTHER (AND YOUR TISSUE)