It is a pretty cool thing being able to work with people all over the world who want to lose weight, get stronger, and gain lean muscle mass. Seeing people get results 3,000 miles away is something I really enjoy. Don't get me wrong, I love training people in person too, but being able to call people up and talk about a crazy week they had and talk them off the edge of calling Pizza Hut is a completely different ballgame.
Replying to 1,000+ word e-mails about crazy gym or boyfriend/girlfriend stories
Shooting almost 300 videos for my clients
Looking at what they are consuming every single day and giving them feedback
Changing programs on the fly with a text message, phone call, or skype conversation.
To put it simply, I am willing to just about everything in my power to guarantee my clients success. I am not joking that I give my personal cell phone number to all of my clients. Why not? They should be able to contact me just like if I was training them in person. This is why I have kept just about every client I have ever had. I get results. Plain and simple.
(NOT one of my clients…)
This last year or so I have been able to get some great results with my online clients. Recently, some of my clients sent in e-mails discussing their time with me. Yes, these are real people, you probably even heard me read one of their e-mails on the podcast:
I have been training with Kevin for the last five months and can honestly say that I have made the biggest transformation in both my training and diet. It is obvious that Kevin commits a lot of time into designing the workout and nutrition as he really tailors it to your goal. My workouts have been amazing and he has pushed my intensity level to a new high. Furthermore, he is great at answering questions and really listens to what his clients have to say. I would recommend Kevin to anyone who is looking to make a serious commitment to transforming their body.

Andrew
Birmingham Al
Working with Kevin has been both fun and effective. He is so knowledgeable that I can already see specific results based on what my goals are. His programming is interesting, enjoyable, and it WORKS! He is so passionate about what he does, that it is infectious and makes me want to go after it that much harder in the gym. Even though we don't get to train together, Kevin's energy is contagious and more motivating than most of the trainers I've worked with in person. I can't say enough about how great it is to be working a program that is well designed and is specifically for me, and how much I appreciate the thought and effort that goes into each aspect of my program. I have the utmost confidence in Kevin, and that translates into confidence in myself. What more can you ask for?

Michelle C.

Chicago, IL
Both of those testimonials are from online clients that have been KILLING it! even with incredibly busy lives with, school, work, family, and a social life! I even got to meet Michelle during the Perform better Seminar in June and get a bite to eat (and as a bonus, got a ride back to my hotel. No taxi fare FTW!).
I have kicked things up a notch too with the new online training software I am using that gives clients access to 150 exercise videos with another 150 coming in about a week or so that cover speed, agility, ladder work, plyometrics, olympic lifting, and more!
Two online PT spots are currently open now as I get things locked down with the new software. If you have been stuck not getting results, or have been doing boring workouts, or just want to be in the best shape of your life, we can work together to achieve your goals. And not to get all infomercial like, but we are talking about $4 a day for online training. I know most spend more on their morning coffee, and it probably has sugar, heavy cream, and a syrup that should be on ice cream. Which will help you meet your goals?
The Perform Better seminars are always a great time. Fantastic presenters and amazing people who are looking to become better trainers, coaches, therapists, or fitness enthusiasts. Speaking of the presenters, the line up was amazing. Here are just a few of them: Thomas Myers, Sue Falsone, Mike Boyle, Eric Cressey, Martin Rooney, Robert Dos Remedios, Chris Frankel, Todd Durkin, Grey Cook, and on, and on… I was really bummed that I didn't get to see more of the lectures and hands on presentations.
Here are the ones I did get to:
Sue Falsone on the Thoracic Spine (Lecture and Hands-On): If you don't know Sue, she is a highly regarded PT and works for The LA Dodgers and Athletes Performance. Sue talked about the importance of mobilizing the thoracic spine and how being locked up there can cause issues above and below. I feel like we have talked a ton about thoracic mobility on the podcast so I will keep it brief. Sue, gave us a few mobility exercises to do. Most if not all of them require a knowledgeable PT to perform.
Sue also emphasized that we need to also stretch the side of our body, here is one of the movements she gave us here: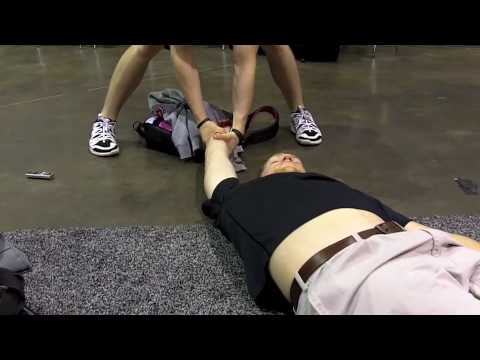 Chris Frankel (Lecture and Hands-On):
You might remember Chris from Episode 151 of The FitCast. He is the go to guy when it comes to suspension training be it with a TRX or any other suspension device. Chris' lecture was really good. It kind of surprised me how much there was to learn about suspension training and how it can be so valuable for us as coaches or fitness enthusiasts. his motto for suspension training makes a lot of sense: FLAC
Unleaded, Focus on Movement
Learn appropriate level of progression
Apply training stimulus
Challenge conditioning
Chris also went over some cool single leg exercises and progressions with the TRX that I will try to shoot videos of for you guys. Basically, if you still don't have a TRX, you are really missing out.
That is it for Part 1. Part 2 will be all about Thomas Myers and Anatomy Trains. I am attending another one of Thomas' lectures tonight so I should have some great stuff for you guys. And again, Anatomy Trains is one of those books that you must have to understand why we foam roll, and why foam rolling might actually be pretty ineffective…
We can't all have time machines in the form of a phone booth from a future where Bill and Ted's music aligned the planets and set in motion intergalactic peace. This is why on some days I have clients that show up late or I myself need to fit in a quick training session in between clients or meetings. So what do you do? Do you lift for a shorter period of time or do a quick warm up that may just be enough to prepare our bodies for the rigors of heavy squatting and explosive bicep curls (because…it is almost beach season…Gym. Tan. Laundry).
Let me preface this blog by saying the far to often used, "it depends." I consider myself to have pretty good mobility everywhere except my hips, and they are even doing pretty damn good now. But what about someone who has poor posture, knee pain, and hip flexors with the tissue quality of beef jerky? Obviously I would have them put the mobility and rehab work higher up on the list of priorities. Got it?
Now, here is the best bang for your buck warm up for those who are crunched for time but still want to warm up properly.
Foam Rolling (6 reps each)

Quads
Adductors
Lats
Traps
Mobility (5/side or 10 total)
Spider Man Lunge Walk with Reach and Hip Lift: This is the epitome of, "bang for your buck" when it comes to mobility exercises. Think about it, you are stretching your hip flexors and hamstrings while also activating your glutes and quads.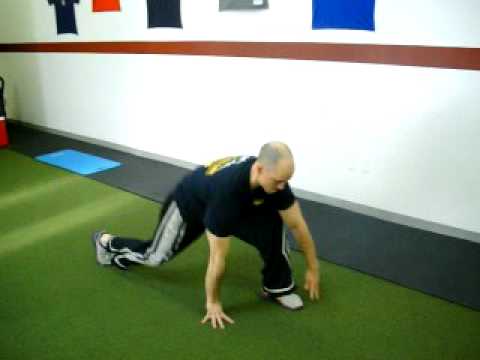 Scapular Wall Slides: It is a sad fact, but most people have very limited scapular mobility. Just ask a friend to try and put their arms straight overhead, instead of something that looks like a touchdown sign, you will see a deformed "V." Scap wall slides will mobilize your upper back and get you ready for your horizontal and vertical pulling.
Wall Quad/Hip Flexor Stretch: Like the Spider Man Lunge Walk, this mobility exercise hits a few muscle groups, the hip flexors and quads (no duh Kevin…). To perform these go against a wall and place one knee on the ground and the opposite foot on the ground. You should
Push Up to Downward Dog: I don't like yoga, but this movement allows you to warm up your upper body and get a great stretch for your hamstrings and calves.
Now go on and leave no room for excuses when it comes to getting a lift in. Lastly, DO NOT FORGET:
BE EXCELLENT TO EACH OTHER (AND YOUR TISSUE)
Want to hear something original? I am going to do a random thoughts post on a Friday. Can you believe it? Now hold on to your butts while we light this candle.
Can you believe it? That is two consecutive days of blogging? I think this calls for celebration. In the tradition of Random Friday posts, this will most likely have nothing to do with fitness or nutrition. I can however guarantee that it will feature a picture of a female celebrity that I have no shot with.
(Yvonne Strahovski of Chuck)
Today I am excited to get in a lift with Roger Lawson of RogLawFitness.com. He is also a former Cressey Performance intern and gamer. We actually had an epic day of gaming last month when the Penny arcade Expo strolled into tow. Tomorrow I plan on making the trip to Hudson, MA to visit the rest of the CP crew that I haven't seen in two months. I could be in for something like this: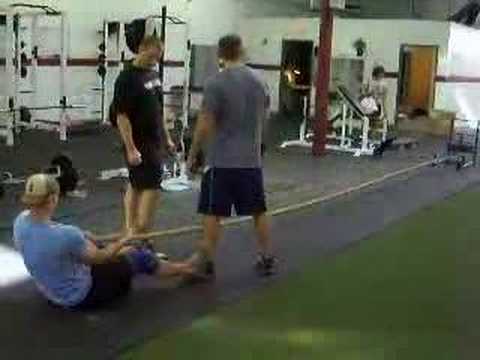 I am officially converted to Greens Plus Protein Bars. They really don't taste so bad, especially the chocolate coated ones. You can't look at every meal on the run as an opportunity to eat something that is like dessert or a Snickers Bar. I recommend checking them out if want a healthier alternative to your current on-the-go snack on bar.
Finally, I need to pimp Resident Evil Afterlife. I really enjoy somewhat bad movies by the fancy pants people who watch artsy fartsy (technical term) movies instead of watching fun movies like the RE series, Crank, or the Fast and Furious series. This trailer looks really stupid, but a sh*t ton of fun!
How do people go to the gym day after day and do the same 30 minute workout on the elliptical machine? Honestly I would rather do some sprints in the parking lot outside of a 7/11 in a rival gang's territory at 2am with nothing on but a game worn jock strap from Terry Tate.
No, but seriously, I would rather challenge myself and do something different every time. That is where this blog post comes in. I hope to provide some fresh ideas for you to use when it comes to the end of the workout, when you need to get that finisher in. Now hold on to your butts and crack open a Spike!
1. Burpee/Mountain Climber Combo: This one is pretty straight forward. You give yourself a rep amount to hit for each movement. I am a fan of doing 60 mountain climbers (30/side) and 12 burpees (with the push up). Rest for 60 seconds in between each round. Rinse and repeat at least 4 times and try to work up to 8 or 10. Keep the trash can near by…
2. TRX Circuit from Hell: OK, now things get interesting. That TRX in your garage isn't just for rows and planks, it can be used for some of the hardest complexes imaginable. For this you will go from one exercise to the next, performing 10 reps (per side if  for each movement. The exercises are: Atomic push ups, rear foot elevated split squat, leg curls, rollouts, and rows. Try to get through the whole circuit in under three minutes.
3. Grab bag Finisher: This is the one I use the most. I put together five or six exercises and put them into a complex. They usually involve low risk movements with lighter weights than normal, for obvious reasons. Think medballs, kettlebells, slideboards, TRX, body weight, and barbell exercises. Here is one you can try today that will have you screaming for mercy:
Plate loaded front squat (Hold a 10-25 pound plate out in front of you while squatting). x8
Renegade Row 8 reps/side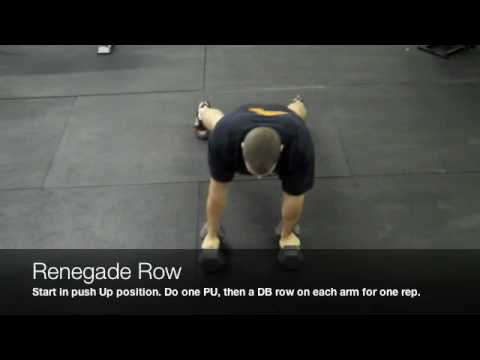 TRX Rollouts (or ab wheel) x10
KB Swings x12
Bodysaw x12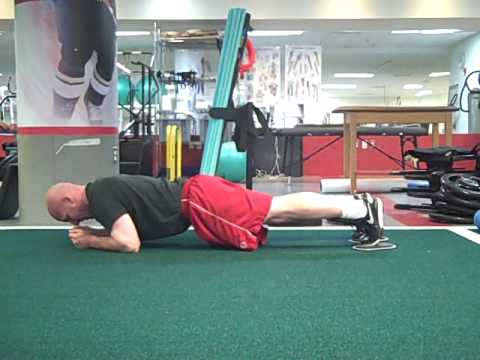 Overhead Medball Slams x20
BONUS: Here is a Death Circuit I did three years ago with Eric Cressey. I promise my posture is much better now:
If you want some more of these, I highly recommend you check out Tony Gentilcore's blog. He posts tons of circuits on there, and blogs about the latest Lord of the Rings convention. Enjoy and be safe. Have some other circuits or finishers you want to share? Post them in the comments section.
This past week was easily one of the best I have ever had. First off, I get to work at one of the premier strength and conditioning facilities in the WORLD, Mike Boyle Strength and Conditioning. If my batteries are ever drained, they get recharged every single week at our staff meetings. This past week Mike had Todd Durkin come in and talk to the staff because he was in town for the Perform Better Seminar. To be honest, he didn't even talk to us about training. Instead he talked about how we can/should go about bettering ourselves and our business.
If you listened to this past week's episode of The FitCast (Episode 171), you heard me talk about some of the things that Todd had to say, but that was just scratching the surface. The second Todd had the floor the energy in the room raised immensely (and this was AFTER he trained had for an hour in the weight room!). I don't think I have been more wide-eyed since I first met Mike back in 2006.
Anyways, to the point of this post, I am going to make it very clear. Some of the things Todd said hit home hard. Sometimes we can hear the right answer 1,000 times, but it is number 1,001 that makes the biggest impact and convinces us it is the right one because of the person who is delivering it. That is what happened with Todd. He dropped a bunch of quotes and sayings that I immediately wrote down for future reference. Here is the one that hit home:
"Eat to Live, Don't Live to Eat"
I should say it was that quote followed by this one:
"You Can Only Take a Client as Far As You Have Gone"
Think about that. Does that mean a coach or training with 20% body fat can't get their client below that? No, I don't think so. I am not in the same shape as my man Jason Statham (I really want to meet that guy…), but I have gotten some amazing results with all of my clients. I took it more as, "How do you expect your clients to get results that you can't achieve yourself?" I mean, YOU are the expert right?
Another reason why I am excited to post these finished Destination Abs pictures in the near future…
I am sure there are more quotes and thoughts from the talk coming soon, so stay posted!
Beginners make a lot of mistakes when they first start lifting and it isn't their fault. They see a workout in FLEX or SHAPE magazine and just go at it. Then their form is poor, they are complaining of soreness, and they don't see results. Why? Because they don't use progressions. Why start with reverse lunges or body-weight squats when you could be doing back squats with German volume training that promises 100 lb increase in your 1RM in 3 months? Same think with push ups to benching. I don't let any of my untrained athletes and clients bench until they have shown proficiency in the push up. I mean they should be able to do 15 body weight push ups before I put them under the bar. Dumbbells are another case, but hopefully you are picking up what I am dropping you.
The Push Up
The horizontal press is another one of those movements that people tend to progress to rapidly. Should you really be joining in with your buddies on Bench Monday if you can't do 12 bodyweight push ups? Probably not. What about doing dips, dumbbell press variations, or dumbbell flys? Oh yeah, and that brings me to my next point, stay the hell away from machines unless you want to get into bodybuilding (and can eat and train for it) or have a specific reason for doing so (training for EXTREME hugging does not count, although I am all for it).
Now let's talk about the push up a little more before we continue. Personally I think it is in the argument when you talk about the top three exercises you can do for optimal strength, performance, and overall health promotion. Just for discussion (in the comments) I believe the other two are the single legged squat (or lunge) and the pull up and its variations.
How to do a perfect push up
Keep these things in mind when performing the push up:
Keep a straight line from the back of your head to your heels.
Keep glutes tight (will help you keep that straight line
Chin tucked
Don't lead with your head
Hands shoulder width apart (or more) and under your shoulders (don't have your hands past your face when you are on the ground.
45-70 degree angle at the armpit
Bring chest all the way to the ground for proper scapular retraction
Phase 1:
Elevated Push Up (hand elevated)

If someone can not do push ups from the ground the best place to start is with their hands on a box or an elevated barbell in a rack. This way you can progress them by moving the bar in the rack closer to the ground or a shorter box.
Phase 2:
Bodyweight Push Up

You should be able to complete a minimum of 12 push ups correctly before moving on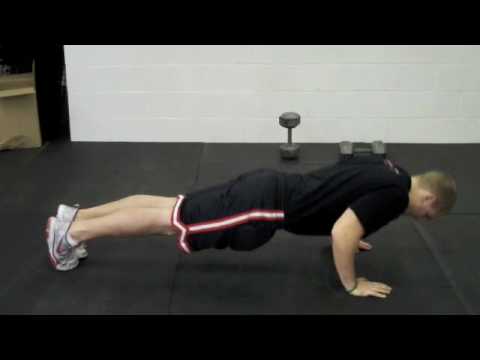 Phase 3 (Where the Fun Begins):
1-Legged Push Ups (Great for core and shoulder stability, I am a big fan of this as the first progression after bodyweight push ups)
T-Pusp Ups

These are great for also addressing thoracic mobility as well.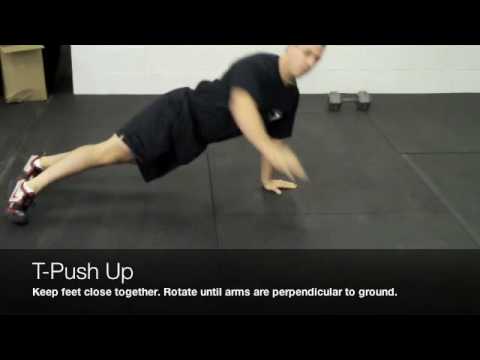 Feet Elevated Push Ups (12 inch box)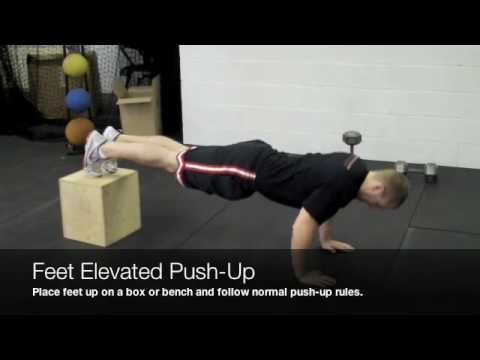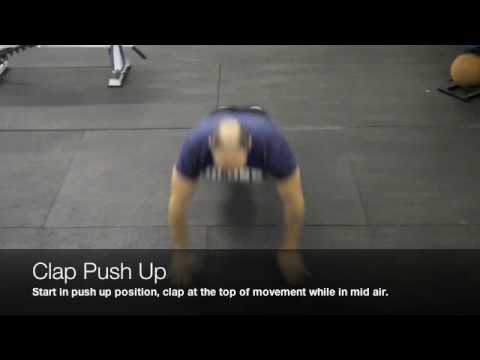 Phase 4: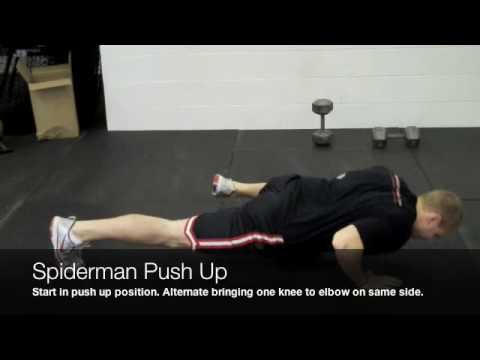 TRX Push Up
TRX Atomic Push Up
Slideboard Push Ups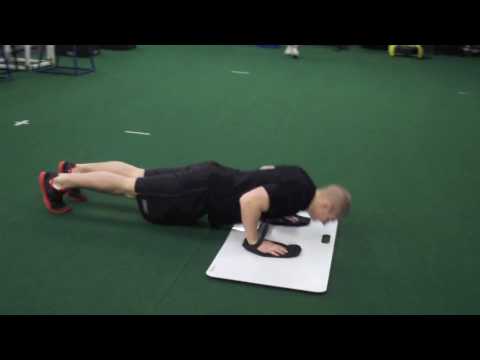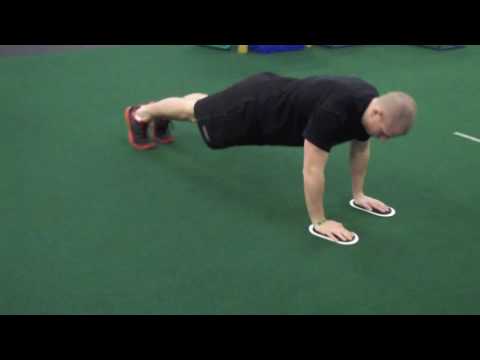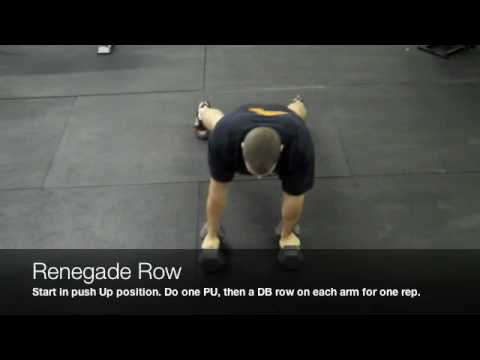 Spicing it Up
Now what if you have become a master of all of the push up variations and now you need more of a challenge that is where these come in play.
Chains
Band Resisted Push Ups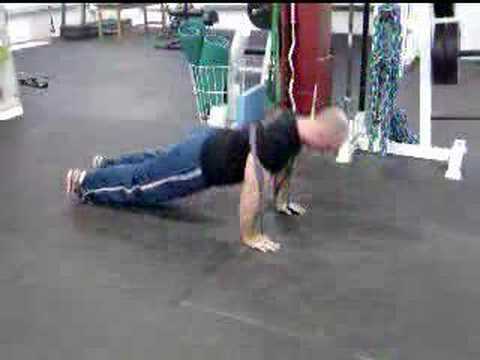 Now what are your favorite push up movements? I could go the rest of my lift just doing push ups… But I won't… Because I love benching…
On Episode 167 we got a question from Hannah about training for soccer. Jon and I had a little bit of a disagreement about what she should be doing. If you haven't already, check out the podcast and let us know your opinion. Anyways, here is the article I told Hannah I would write.
When it comes to female high school soccer players, or high school athletes in general (just females more so because of their higher rate of ACL and MCL injuries) they tend to lack the lateral stability and endurance that is necessary for optimal performance and injury prevention. Mike Boyle wrote in his article titled, "ACL Injury Prevention Is Just Good Training," that, "estimates run to over 100,000 ACL tears per year, with 30,000 of them high school age females." So 30% of ALL ACL tears happen to high school females. That is a pretty astounding statistic. All thanks to the Q-Angle of the female hip.
Building a Solid Off Season Program:
During the podcast I argued that Hannah (the listener) should be focusing some of her time on lateral work. This includes
lateral warmups
ladder drills
and lateral plyometrics
Of course she should also be focusing on a solid weight lifting program. Do your lunges, single legged squats and deadlifts, glute activation, and upper body work. My point was that if she has 75-90 minutes 2-3 times per week to train, she should have plenty of time to do all she needs to do.
I would only recommend you focus on the lateral aspect of the warm up and plyos every other session to make sure you still do some linear work. For example:
Session 1 (Lateral)

Foam roll
lateral dynamic warmup: forward lunges, lateral lunge/squat, 3 direction SLDL, along with her upper body warm ups
Active warm up: side shuffle, carioca, ect
Ladder work
Lateral plyos (heidens, 1-leg later hops, ect)
medball/LIFT

Session 2 (Linear)

Foam roll
Linear dynamic: walking lunges, toe touch squat to stands, and upper body (push ups, scap wall slides, reach roll and lift)
Linear Dynamic (part 2): butt kick pull backs, knee hugs, walking lunges, spiderman lunges, inch worms
Linear Active High knees skips, high knee run, butt kicks, back pedal, ect)
Linear plyos (box jumps, depth drops, ect)
medball/Lift

Conditioning

Shuttles will be great for improving lateral movement speed and (when done correctly) teaching your body to decelerate.
I am not saying to do all of this, pick and chose and make a recipe that fits your training level, time of the year, and time you have for the session. Try to limit the hops to 20 each session. Also, keep in mind, this is just a basic outline for ideas, not a program.
Here are some videos of exercises and warm ups you should use:
(in regards to the video of me, make sure to land softly, toe then heal and stick the landing. You should be able to hold that position.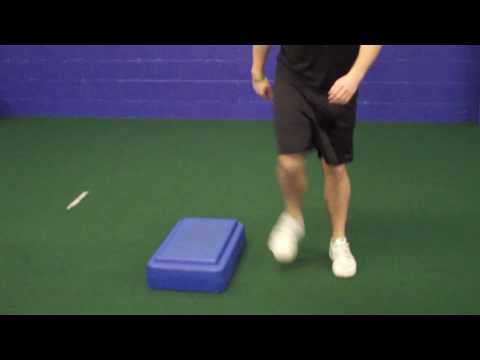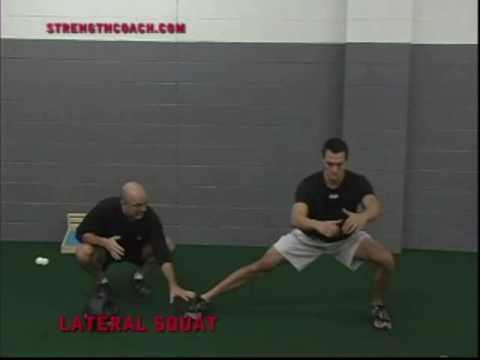 (Myself and Roger Lawson of
http://www.roglawfitness.com
1uping Arnold and Carl Weathers)
So… I will be doing all of my blogging here now since TheFitCast.com is pretty busy with all of the Episodes, FitCast Accountability Blogs, Client Blogs, and Destination Abs. I wanted my own home for writing about training, nutrition, rehab, and some off topic stuff.
As you may have noticed from the last six months of so on the podcast, I have quite a bit to say now and voice my opinion on many topics. I am very lucky to have had learned from all of The FitCast guests, the hundreds of articles and blog posts from the best in the field I have read, my internship with Eric Cressey, my stint at a commercial gym, and currently at Mike Boyle Strength and conditioning. Also the whole Destination Abs project has taught me a lot about nutrition. I don't mean just calorie recommendations, macronutritents, cycling, and supplements. I am talking about the psychological aspects of dieting. I have been there, and I know what it takes to reach your goals.
(Yep, Jason Statham is bad ass,)
My first post will be coming tomorrow in the form of a mini article about off season soccer training.