Perform Better Summit (Providence, RI) Recap: Part 1
The Perform Better seminars are always a great time. Fantastic presenters and amazing people who are looking to become better trainers, coaches, therapists, or fitness enthusiasts. Speaking of the presenters, the line up was amazing. Here are just a few of them: Thomas Myers, Sue Falsone, Mike Boyle, Eric Cressey, Martin Rooney, Robert Dos Remedios, Chris Frankel, Todd Durkin, Grey Cook, and on, and on… I was really bummed that I didn't get to see more of the lectures and hands on presentations.
Here are the ones I did get to:
Sue Falsone on the Thoracic Spine (Lecture and Hands-On): If you don't know Sue, she is a highly regarded PT and works for The LA Dodgers and Athletes Performance. Sue talked about the importance of mobilizing the thoracic spine and how being locked up there can cause issues above and below. I feel like we have talked a ton about thoracic mobility on the podcast so I will keep it brief. Sue, gave us a few mobility exercises to do. Most if not all of them require a knowledgeable PT to perform.
Sue also emphasized that we need to also stretch the side of our body, here is one of the movements she gave us here: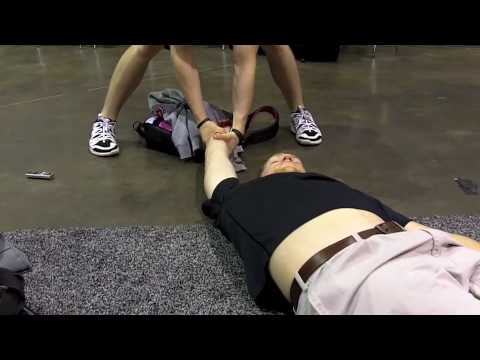 Chris Frankel (Lecture and Hands-On):
You might remember Chris from Episode 151 of The FitCast. He is the go to guy when it comes to suspension training be it with a TRX or any other suspension device. Chris' lecture was really good. It kind of surprised me how much there was to learn about suspension training and how it can be so valuable for us as coaches or fitness enthusiasts. his motto for suspension training makes a lot of sense: FLAC
Unleaded, Focus on Movement
Learn appropriate level of progression
Apply training stimulus
Challenge conditioning
Chris also went over some cool single leg exercises and progressions with the TRX that I will try to shoot videos of for you guys. Basically, if you still don't have a TRX, you are really missing out.
That is it for Part 1. Part 2 will be all about Thomas Myers and Anatomy Trains. I am attending another one of Thomas' lectures tonight so I should have some great stuff for you guys. And again, Anatomy Trains is one of those books that you must have to understand why we foam roll, and why foam rolling might actually be pretty ineffective…