The Type of Diet
Let's get this out of the way first, we, as humans, are incredibly complex, diverse, and above all else weird. This is why something like the Atkin's Diet will work great for Bobby Joe, but will cause Johnny Ballgame to binge three days into the same diet. What about the fad of liquid diets? Low Fat, high carb, moderate protein? High Fat, high protein, low carbohydrate? No carbs (i.e. Anabolic Diet)? Fasting? Straight up calorie restriction is fine too, as long as you make sure you get in adequate protein and carbohydrates to complement you training. But since many people like to follow a designed program or a set of guidelines I will help you decide if one of these diets are right for you. Read more
Want to hear something original? I am going to do a random thoughts post on a Friday. Can you believe it? Now hold on to your butts while we light this candle.
Can you believe it? That is two consecutive days of blogging? I think this calls for celebration. In the tradition of Random Friday posts, this will most likely have nothing to do with fitness or nutrition. I can however guarantee that it will feature a picture of a female celebrity that I have no shot with.
(Yvonne Strahovski of Chuck)
Today I am excited to get in a lift with Roger Lawson of RogLawFitness.com. He is also a former Cressey Performance intern and gamer. We actually had an epic day of gaming last month when the Penny arcade Expo strolled into tow. Tomorrow I plan on making the trip to Hudson, MA to visit the rest of the CP crew that I haven't seen in two months. I could be in for something like this: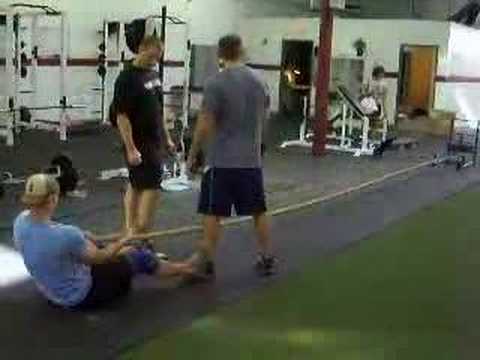 I am officially converted to Greens Plus Protein Bars. They really don't taste so bad, especially the chocolate coated ones. You can't look at every meal on the run as an opportunity to eat something that is like dessert or a Snickers Bar. I recommend checking them out if want a healthier alternative to your current on-the-go snack on bar.
Finally, I need to pimp Resident Evil Afterlife. I really enjoy somewhat bad movies by the fancy pants people who watch artsy fartsy (technical term) movies instead of watching fun movies like the RE series, Crank, or the Fast and Furious series. This trailer looks really stupid, but a sh*t ton of fun!
Here comes another gem from CBS Morning News and their, "CBS News Medical Correspondent." A recent study came out recommending that middle age women should be exercising for one hour each day to keep from gaining weight. That is 60 minutes or 1/17th of your day if you get 7 hours of sleep each night. THAT IS LESS THAN 6% of your time spent awake!
So, of course the doctor is going to say that, "yes, you should exercise for 60 minutes each day…" NOPE… Not going to happen.
She explains that women should be eating better instead of exercising more. Sure, I can agree with eating better, but why not still encourage women to move more! Not just for weight loss, but to stay healthy. What about osteoporosis? Keeping a healthy heart rate and blood pressure in check? What about just for the sake of their mental health? I don't know about you but I am in a much better mood after I train for an hour. And how about just keeping a baseline of strength so you can pick up bags of groceries or your kids.
One hour of activity can be doing a Yoga DVD for 30 minutes in the morning, then walking your dog for 30 minutes at night! Come on health professionals!
All we are doing is giving people MORE EXCUSES!!!
Beginners make a lot of mistakes when they first start lifting and it isn't their fault. They see a workout in FLEX or SHAPE magazine and just go at it. Then their form is poor, they are complaining of soreness, and they don't see results. Why? Because they don't use progressions. Why start with reverse lunges or body-weight squats when you could be doing back squats with German volume training that promises 100 lb increase in your 1RM in 3 months? Same think with push ups to benching. I don't let any of my untrained athletes and clients bench until they have shown proficiency in the push up. I mean they should be able to do 15 body weight push ups before I put them under the bar. Dumbbells are another case, but hopefully you are picking up what I am dropping you.
The Plank
This post I want to focus on the plank,  the most basic core stability exercises. I have a hierarchy of goals the athlete/client needs to meet before moving on to further progressions:
Phase 1
30 second front plank/15 second side plank (Per Side)
Ability to do Pallof Presses properly in the tall kneeling position (weight will vary, I just want them to be able to stay tall and squeeze their glutes)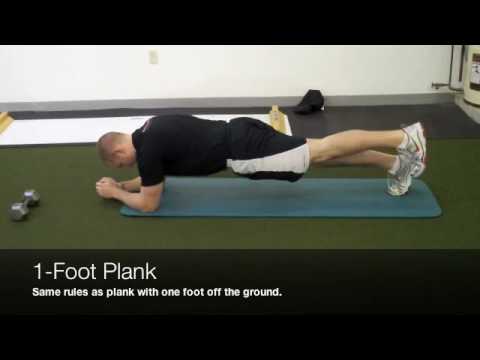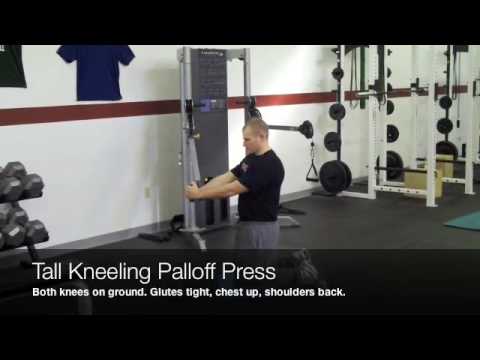 Phase 2
60 second Plank/30 second side plank (Per Side)
Ability to do half-kneeling and standing Pallof Presses properly
12 kneeling rollouts on an exercise ball or TRX.
Half Kneeling Cable Chops/Lifts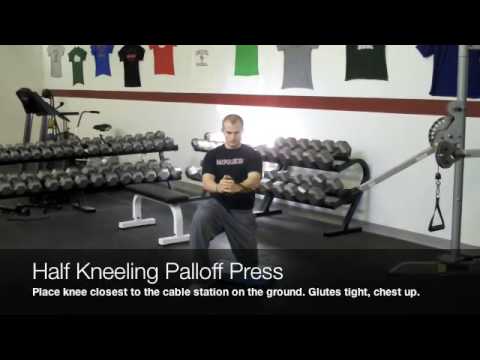 Phase 3
30 Second Feet elevated (FE) Plank (on 12″ box)/15 second FE Side Plank (per side)
Ability to do 1 Legged Pallof Press
Crawling Planks
Rollout on Ab Wheel
Landmines/Extreme Core Trainer
Standing Cable Lifts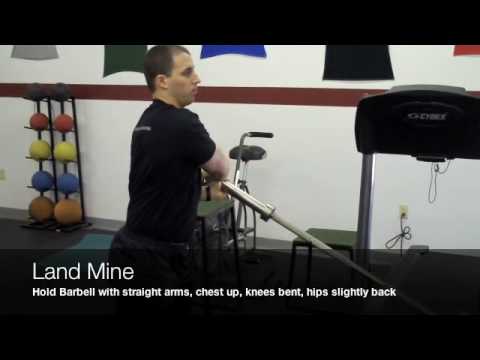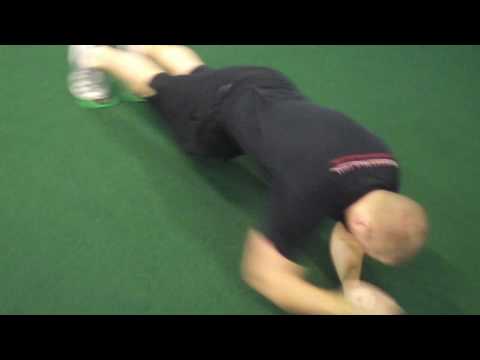 Phase 4
Feet supported Side Plank
Standing TRX Rollout
Landmine/Extreme Core Trainer with Handles
Band Resisted Rollouts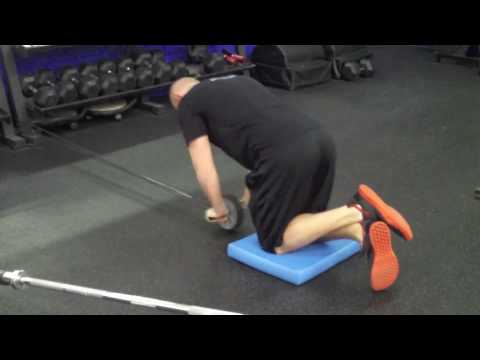 Phase 5
This is just what I go by and it can change based on other variables. But for the most part this is what you should go by for your own training and your clients.