I am so sorry, I have been a horrible blogger these last few months. In my defense, I have been hard at work on something very cool that will change the fitness industry later this week. Trust me, I do my best to not write checks that my ass can't cash, so stay tuned…
Before I get started, on an off-topic note, Fringe is back for it's third Season. It is easily my favorite show on television. So many intricacies and the show runners trust the audience to understand what is going on. Also, it has caused me to wish one day to go on a date with Anna Torv (the good version stuck on the other side). She kicks ass and can cross between parallel universes.
Now to the fitness and nutrition stuff…
So I have had to make some changes in my life after putting myself second (or third) on my list of priorities. I have been working long hours to finish this project, moved into a new loft apartment, working with my clients (online and in person), not sleeping and dealing with the fact that my Mom is no longer there to do my laundry.  Simply, it is time I put my health back in the front of the line, so I have made some drastic changes.
1. No More Xtreme Caffeine Drinks
You know you have a problem when you go to a Perform Better Summit and the first words out of half of the people you talk to are, "Do you have a Spike?" or "Did you just drink a Spike?" Yes, I am looking at you Bret Contreras! The last few weeks I even upped it two two cans a day, seven-days-a-week to keep moving. I am not proud of it, I hit rock bottom and it was causing some digestive and sleeping issues (obviously).
It is a pretty cool thing when I can have my boss, Mike Boyle, straight up tell me it is too much, and of course he was right. And he is Mike Boyle, his words hold a lot of weight with me not only as a boss, but as a mentor too. Martin Rooney said the same thing when I saw him in Chicago. I stopped drinking Spike for one week after I saw him speak, then fell right off the wagon.
Instead of Spike I will be sticking with Green Tea exclusively. And not just the regular old Lipton Tea you find at your local "Circle K" (Please write in the comments section what that reference is from and I will give you a brush with fame next episode). I bough a few cases of the real deal:
I will let you know how it is when I get my cases in on Wednesday.
[editors note: I should mention I drink a ton of hot brewed green tea too (I am right this second). These are just for convenience and when I am on the run.]
2. Not Eating or Taking Supplements Two Hours Before Bedtime
I think I stole this from Martin Berkham, but it just makes a lot of sense. Nothing that could possible stimulate you, even calories, before bedtime. When I was a freshman in college I read an article that said you NEEDED to consume some casein protein before bed to avoid catabolism (oh noes! my muscle is melting away as I sleep!). Well, it seems that was kind of BS. When you think of it, you are stationary for 7-8 hours, how many calories do really you need before your body starts breaking down your precious muscle mass for energy? The answer is very little.
(Now just give me back my tub of protein and no one gets hurt)
3. Keeping a Sleep Diary and having a "Sleep Bank"
First is the sleep Bank. I have to get 8 hours of sleep each night and be in bed for 8.5 hours. If I do not hit these goals, I have to make up for them in the bank by going to bed earlier the next night. Nothing scientific here, it just works for me. I require myself to get 56 hours of sleep each week. Naps count too but they are usually 15 minutes or so.
Every morning I wake up and write a paragraph about the previous night. I log:
If I tossed and turned
If I woke up sweating (room is too hot)
What I drempt about

This one is the most interesting, I wake up so refreshed after a good dream. For example I had a dream I hosted SNL the other night (I have had this dream 5 or 6 times). Woke up refreshed and ready to kick some ass.
It is simple but I think it could prove to be very interesting blog content.
This one of the best clips from SNL ever:

BONUS #4: Bill and Ted are Reuniting
Yeah, it is true. MTV news got confirmation last week that top men are hard at work on a sequel to Bill and Ted's Bogus Journey (which was a sequel to Bill and Ted's Excellent Adventure) making the franchise a full blown trilogy. Keanu is on board 100% as well as Alex Winter.
Until next time, be excellent to each other.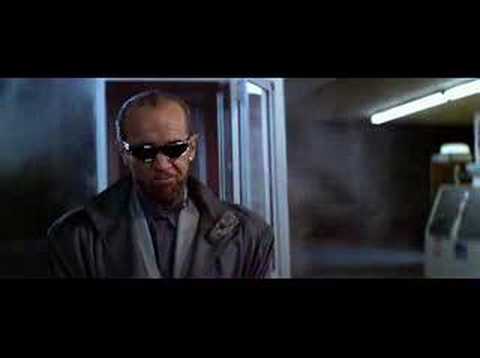 The Type of Diet
Let's get this out of the way first, we, as humans, are incredibly complex, diverse, and above all else weird. This is why something like the Atkin's Diet will work great for Bobby Joe, but will cause Johnny Ballgame to binge three days into the same diet. What about the fad of liquid diets? Low Fat, high carb, moderate protein? High Fat, high protein, low carbohydrate? No carbs (i.e. Anabolic Diet)? Fasting? Straight up calorie restriction is fine too, as long as you make sure you get in adequate protein and carbohydrates to complement you training. But since many people like to follow a designed program or a set of guidelines I will help you decide if one of these diets are right for you. Read more
The Perform Better seminars are always a great time. Fantastic presenters and amazing people who are looking to become better trainers, coaches, therapists, or fitness enthusiasts. Speaking of the presenters, the line up was amazing. Here are just a few of them: Thomas Myers, Sue Falsone, Mike Boyle, Eric Cressey, Martin Rooney, Robert Dos Remedios, Chris Frankel, Todd Durkin, Grey Cook, and on, and on… I was really bummed that I didn't get to see more of the lectures and hands on presentations.
Here are the ones I did get to:
Sue Falsone on the Thoracic Spine (Lecture and Hands-On): If you don't know Sue, she is a highly regarded PT and works for The LA Dodgers and Athletes Performance. Sue talked about the importance of mobilizing the thoracic spine and how being locked up there can cause issues above and below. I feel like we have talked a ton about thoracic mobility on the podcast so I will keep it brief. Sue, gave us a few mobility exercises to do. Most if not all of them require a knowledgeable PT to perform.
Sue also emphasized that we need to also stretch the side of our body, here is one of the movements she gave us here: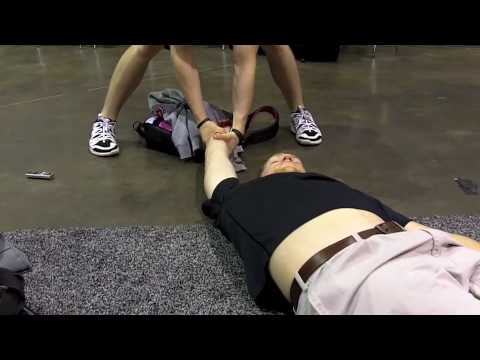 Chris Frankel (Lecture and Hands-On):
You might remember Chris from Episode 151 of The FitCast. He is the go to guy when it comes to suspension training be it with a TRX or any other suspension device. Chris' lecture was really good. It kind of surprised me how much there was to learn about suspension training and how it can be so valuable for us as coaches or fitness enthusiasts. his motto for suspension training makes a lot of sense: FLAC
Unleaded, Focus on Movement
Learn appropriate level of progression
Apply training stimulus
Challenge conditioning
Chris also went over some cool single leg exercises and progressions with the TRX that I will try to shoot videos of for you guys. Basically, if you still don't have a TRX, you are really missing out.
That is it for Part 1. Part 2 will be all about Thomas Myers and Anatomy Trains. I am attending another one of Thomas' lectures tonight so I should have some great stuff for you guys. And again, Anatomy Trains is one of those books that you must have to understand why we foam roll, and why foam rolling might actually be pretty ineffective…
This weekend is the annual Perform Better Summit in Providence, RI. The summit consists of three days of presentations and, "learn by doing" sessions. In the past I have only gone to the 1-day seminars that Perform Better puts on, so this will be a little bit of a different beast. To be honest, I am only going on Saturday and Sunday because I have a full schedule of clients on Friday. So the plan is for myself and Mike Boyle Strength and Conditioning staff members Dave Rak and Evan Levy to drive down to RI on Saturday Morning around 6:30am.
The summit lineup is just incredible from Todd Durkin, to Stuart McGill, to Dos Remedios, Mike Boyle, to Dr. John Berardi, to Sue Falsone (pumped for her talk on thoracic mobility), to Martin Rooney, to… You get the picture…
Since I will be staying overnight there are a few necessities I have to pack first. This might not sound like a big deal but it really is. And I think this list can translate into any trip for someone that is a fitness enthusiast or professional.
1.
CASE

of Spike
Best to get the most obvious one out of the way. Why a case? Because I know I will drink at least 4 over the weekend, plus I plan of getting Bret Contreras hooked on them. Plus let's be real, no one is going to sleep this weekend. The Perform Better Summits are the equivalent of the Catalina Wine Mixer. We are going to go all out. (WARNING VIDEO IS NSFW DUE TO LANGUAGE…BUT WHO CARES IT IS FUNNY AS SH*T).
2. Large Cooler Packed With:
2% Plain Greek Yogurts
Pre grilled Chicken/Steak
Cottage Cheese
Fresh and Frozen Fruit
Raw Vegetables
3. Dry Goods
Beef/Buffalo/Turkey Jerky
Nuts
Protein Powder
For smoothies… And mixed drinks….
Keeps water cold, and looks bad ass.
I have been trying to get back to Cressey Performance at least once a week to train with the guys there because it makes me push myself harder than I thought I could go. It is really a group of friends encouraging each other to reach their true potential. This is something that is almost impossible to do on your own.
Quickly, I want to give a shout out to Tony Gentilcore (very entertaining and education blog that is guaranteed to have scantily clad women), Brian St. Pierre (nutrition and training blog with tons of free recipes and cooking tips), and of course Pete Dupuis (Pete used to blog more…). Of course there is also Eric, but you most likely read his blog, and Chris Howard, who has no blog, but is the master of band training. And an honorable mention to Chris Pothier, intern, who did some mean GCB reverse lunges.
Now for the video: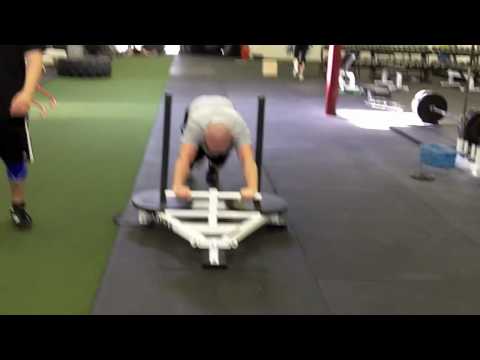 And one bonus video of the the human version of Spike, George Abele deadlifting: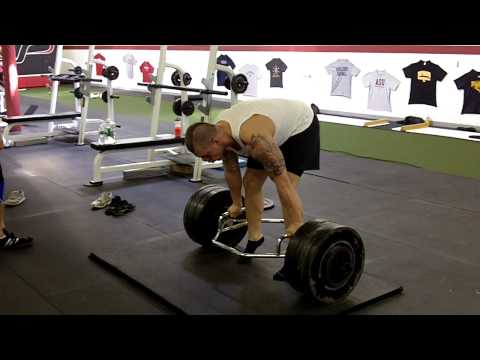 Everyone just made a huge deal about the KFC Double Down. The DD is child's play compared to what I have for you today! The Double Down (only?) has 540 calories, and a ridiculous amount of sodium. How about a 1,000 breakfast? Or how about putting a piece of cheese cake in between a stack of pancakes? Ladies and Gentlemen…SHIT JUST GOT REAL.
1. The IHOP Stacker: We start this list off with the IHOP Stacker. This fat S.O.B. consists of two pancakes with a piece of cheesecake in between them. BUT WAIT! I am not done yet! Then we put "fruit chipole" and whipped cream to top it off. I am surprised this shit and flowered and dunked into a deep fryer too.
2. Hardee's Biscuit of Death: Wow, this doesn't even look like it would taste good. People are crazy… Anyways, this bad mama-jamma consists of two biscuits, eggs, sausage, and gravy. (uhh I think I just threw up in my mouth a little bit. Seriously! Look at this monster!
3. More Bad News For Chocolate Lovers: A resent study done on people's mood and the food they eat showed that people who had 12 servings per month were the most depressed. The people that ate the least (5.4 servings/month) were also the least depressed. So if you want to feel better put down the Hershey's and Russell Stover's before you load your iPod up with the Cure and cry yourself to sleep. (The Cure is an awesome band, just not when you are crying like Dawson/QB2 from Varsity Blues.
I find it pretty astounding when I see people grocery shopping and being so indecisive. Did they just decided that they are low on food so why not go to the grocery store and see what they have? This morning I saw one woman look at yogurt for 4 minutes and 32 seconds (yes I really timed) before buying 3 cups of Yoplait fat free yogurt. What was going through her mind? Maybe something like, "Well, I heard on 'Doctor Oz' that I should get Greek yogurt because it is better for digestion…But last time I tried it, I didn't like that there was so much real fruit in it, that is gross. Not to mention there is so much sugar in there (looking at the fruit versions). I will go with this low carb Yoplait stuff with Splenda in it instead!" All of this, while she had, no joke, ice cream, a box of Cinnamon Toast Crunch (although an epically great cereal) and bagels in her cart.
You need to go into the grocery store with a plan the likes of attacking the Death Star. Have a list of what you NEED, not what you want.
Anyways, that being said, here are what I consider to be the grocery essentials.
1. Lean Beef: I am a HUGE fan of the 96% lean burgers. Quick, convenient, and most importantly high in protein, low in calories, and taste awesome!
2. 50% Salted Almonds: A great on the go snack and essential for Greek Yogurt concoctions.
3. Egg Whites: The first ingredient in every omelet. Also great for many protein bars recipes.
4. Frozen fruit Vegetables: Unless you are going to be using those fruits/vegetables within three or four days of purchasing them, you would be much better off buying frozen. I have written about it before, "The best tasting frozen vegetables are spinach, green beans, and broccoli. Frozen fruits and vegetables are almost always fresher than those found in the produce section because they're flash frozen the day they were harvested."
Here is a video from way back where we make some protein smoothies with some frozen fruit:
http://video.google.com/videoplay?docid=-8898469779304423273
Want to hear something original? I am going to do a random thoughts post on a Friday. Can you believe it? Now hold on to your butts while we light this candle.
Can you believe it? That is two consecutive days of blogging? I think this calls for celebration. In the tradition of Random Friday posts, this will most likely have nothing to do with fitness or nutrition. I can however guarantee that it will feature a picture of a female celebrity that I have no shot with.
(Yvonne Strahovski of Chuck)
Today I am excited to get in a lift with Roger Lawson of RogLawFitness.com. He is also a former Cressey Performance intern and gamer. We actually had an epic day of gaming last month when the Penny arcade Expo strolled into tow. Tomorrow I plan on making the trip to Hudson, MA to visit the rest of the CP crew that I haven't seen in two months. I could be in for something like this: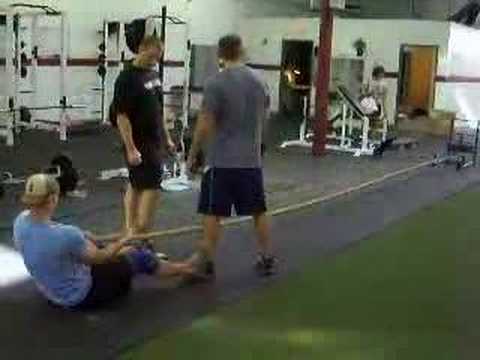 I am officially converted to Greens Plus Protein Bars. They really don't taste so bad, especially the chocolate coated ones. You can't look at every meal on the run as an opportunity to eat something that is like dessert or a Snickers Bar. I recommend checking them out if want a healthier alternative to your current on-the-go snack on bar.
Finally, I need to pimp Resident Evil Afterlife. I really enjoy somewhat bad movies by the fancy pants people who watch artsy fartsy (technical term) movies instead of watching fun movies like the RE series, Crank, or the Fast and Furious series. This trailer looks really stupid, but a sh*t ton of fun!
Here comes another gem from CBS Morning News and their, "CBS News Medical Correspondent." A recent study came out recommending that middle age women should be exercising for one hour each day to keep from gaining weight. That is 60 minutes or 1/17th of your day if you get 7 hours of sleep each night. THAT IS LESS THAN 6% of your time spent awake!
So, of course the doctor is going to say that, "yes, you should exercise for 60 minutes each day…" NOPE… Not going to happen.
She explains that women should be eating better instead of exercising more. Sure, I can agree with eating better, but why not still encourage women to move more! Not just for weight loss, but to stay healthy. What about osteoporosis? Keeping a healthy heart rate and blood pressure in check? What about just for the sake of their mental health? I don't know about you but I am in a much better mood after I train for an hour. And how about just keeping a baseline of strength so you can pick up bags of groceries or your kids.
One hour of activity can be doing a Yoga DVD for 30 minutes in the morning, then walking your dog for 30 minutes at night! Come on health professionals!
All we are doing is giving people MORE EXCUSES!!!
This past week was easily one of the best I have ever had. First off, I get to work at one of the premier strength and conditioning facilities in the WORLD, Mike Boyle Strength and Conditioning. If my batteries are ever drained, they get recharged every single week at our staff meetings. This past week Mike had Todd Durkin come in and talk to the staff because he was in town for the Perform Better Seminar. To be honest, he didn't even talk to us about training. Instead he talked about how we can/should go about bettering ourselves and our business.
If you listened to this past week's episode of The FitCast (Episode 171), you heard me talk about some of the things that Todd had to say, but that was just scratching the surface. The second Todd had the floor the energy in the room raised immensely (and this was AFTER he trained had for an hour in the weight room!). I don't think I have been more wide-eyed since I first met Mike back in 2006.
Anyways, to the point of this post, I am going to make it very clear. Some of the things Todd said hit home hard. Sometimes we can hear the right answer 1,000 times, but it is number 1,001 that makes the biggest impact and convinces us it is the right one because of the person who is delivering it. That is what happened with Todd. He dropped a bunch of quotes and sayings that I immediately wrote down for future reference. Here is the one that hit home:
"Eat to Live, Don't Live to Eat"
I should say it was that quote followed by this one:
"You Can Only Take a Client as Far As You Have Gone"
Think about that. Does that mean a coach or training with 20% body fat can't get their client below that? No, I don't think so. I am not in the same shape as my man Jason Statham (I really want to meet that guy…), but I have gotten some amazing results with all of my clients. I took it more as, "How do you expect your clients to get results that you can't achieve yourself?" I mean, YOU are the expert right?
Another reason why I am excited to post these finished Destination Abs pictures in the near future…
I am sure there are more quotes and thoughts from the talk coming soon, so stay posted!