Bodyweight Exercises That Will Humble You
It is scary when you see guys that want to bench 300 but can't perform 12 push-ups with correct form. Or what about the guys who can leg press 800 but can't do one single legged squat. Finally there is the dude with the Hulkamania bandana maxing out the weight on the lat pull down but can't do one pull up. Scary isn't it? We really don't take advantage of our most important training tool, our bodyweight. I am going to drop some body weight exercises that are sure to get you stronger, add lean muscle mass, and humble you like nothing before.
Not only are all of the following exercises great because you can do them away from the weight room, but some of them are prerequisites for strength training. If you can't do a single legged squat (or at least a split squat), you have no right to be back squatting (let alone filling the leg press with plates and making more noises than Arnold when he is exposed to Mars' atmosphere).
Are you wasting your time doing lots of wrist curls when you could do towel pull-ups and have forearms, biceps, and lats. Are you doing leg curls until you, again, look like Arnold in the above image? Maybe you need to challenge yourself and find out if you are strong, or just machine strong.
Single legged squat (SLS)
The single legged squat may be the hardest of the bunch to execute to perfection. Not only does it force you to use your adductors and glutes in conjunction with your quads, but it will cause some serious increases in your bilateral movements like the squat and deadlift as well. The unilateral nature of the exercise will also help prevent any kind of asymmetries between your right and left legs.
Keys to the Exercise: Start by squatting to a box that will have your femur parallel to the ground, or a little higher. Watch the knee of the active leg and make sure it does not cave in. Push your hips through at the top and fire your glutes. Stay in control at all times and do not sit back on the box.
Rear foot elevated split squat (RFE Split Squat)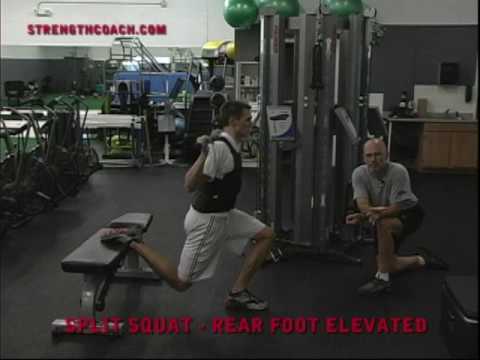 The RFE Split Squat is the sister movement to the single legged squat. You may also know this exercise as the, "Bulgarian Split Squat." Just like the single legged squat the REF split squat is another great unilateral exercise that promotes glute activation and proper movement patterns essential for increasing load and in turn getting stronger and building more muscle. Women should also take notice, this exercise will get you the ass you have always dreamed of! (Guys, feel free to let your girlfriend/wife on this one too).
Keys to the Exercise: Start from the ground up. Place something like an airex pad under the knee of the foot that is elevated as a guide to how low you should go. As in the SLS, make sure the front knee does not cave in and push through the heel. Keep your chest up and stay in control for the duration of the movement.
Towel Pull Up
Pull ups kick ass. Want a big biceps, lats, or traps? What about big forearms and improved grip strength? Then you want to be doing towel pull ups. Why with a towel? Put simply, it is going to make it harder to grip and cause the movement to intensify. Do you want to build bigger biceps, lats, and trap? How about improving grip strength and forearm size? If you answered yes to any of those (and who wouldn't) the towel pull up is your exercise. We know that using a more difficult grip can cause more muscle activation. The towel pull-up is a prime example of this. Also you are going to look like a badass, which is a nice bonus.  If you can do fifteen chin-ups, I challenge you to do 8 towel pull-ups. Just pray that when you are done, you can still open that tub of protein.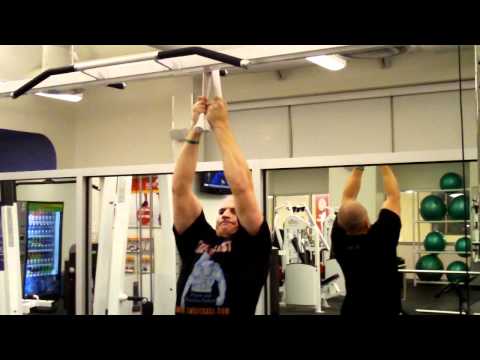 Keys to the Exercise: Use a towel that is in good enough condition to support your weight; the towels at most commercial gyms should be fine. Throw the towel over the pull up bar so you are using a neutral grip. Pull all away up until your elbows are by your side. HOLD ON FOR DEAR LIFE!
Glute Ham Raise (GHR)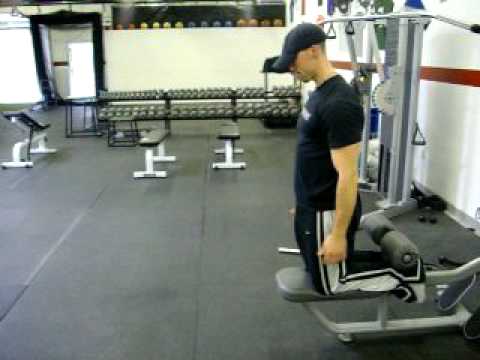 You are one lucky SOB if you have a glute ham raise where you train. If you don't, that doesn't mean you can't modify the exercise. This is where the bodyweight GHR comes into play. As long as you have a dumbbell rack or something to support your heals. If you have never done GHRs before, you are missing out on a major movement that can really increase those deadlifting numbers.
Keys to the Exercise: Keep your chest up and your back arched. Go down as slow as you can and gently push off the ground, pushing your hips through at top.
Feet Supported Side Plank (FSSP)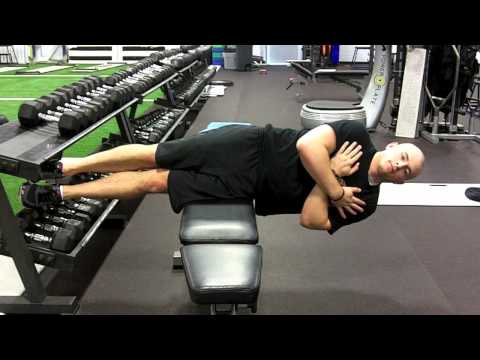 Side planks are great and all, but what do you do when you can hold one for 60+ seconds? That is when you move on to the feet supported side plank. The FSSP is very challenging and will humble you when you do them. Setup a bench parallel to a DB rack (or some place you can place your feet). While sideways, lodge your feet in the DB rack while just the side of your hips are on the bench. Start with 15-20 second holds and progress from there.
Keys or the Exercise: Keep your body erect and glutes tight to hold proper form. Do not allow yourself to bend and the waist. For safety, before you switch sides, place one hand on the ground before moving.
Band Resisted Rollouts
OK, so not 100% bodyweight, but it is pretty close, and in my mind, the ultimate challenge for your core musculature.  Grab one or two resistance bands and an ab wheel attach the band(s) to something that isn't going to move (like a dumbbell rack), take a few steps back, and prepare for those abs to be sore for a few days.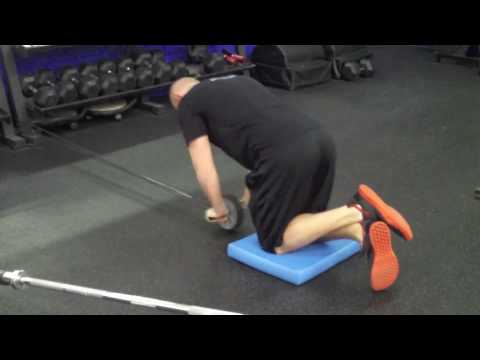 Keys to the Exercise: Keep glutes tight and listen to your body. If you back kicks in, you need to regress and go back to an easier variation.
Trench Planks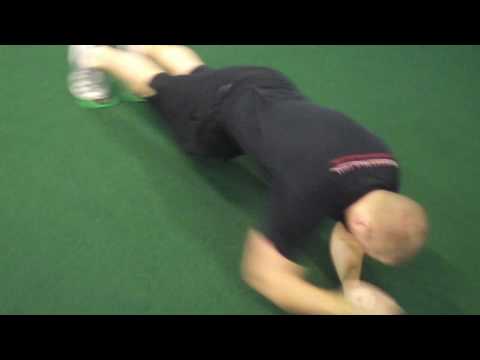 Last but not least is the Trench Plank. For this you will need two Valslides or something similar that will allow your feet to move on a turf or mat surface. The goal here is to crawl like you are in a trench without allowing everything but your arms move. Go for distance on these, 20-40 feet. For a progression, put some 10-15 pound dumbbells in your hands while following the same rules.